Black Friday Gift Guide
Posted on November 20 2018
---
Here are five Women's and Men's Black Friday Gift Guide ideas to help you pick out the right gift for those special to you during the Holiday Season!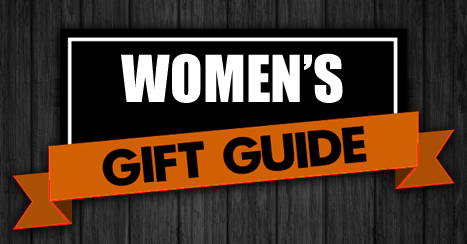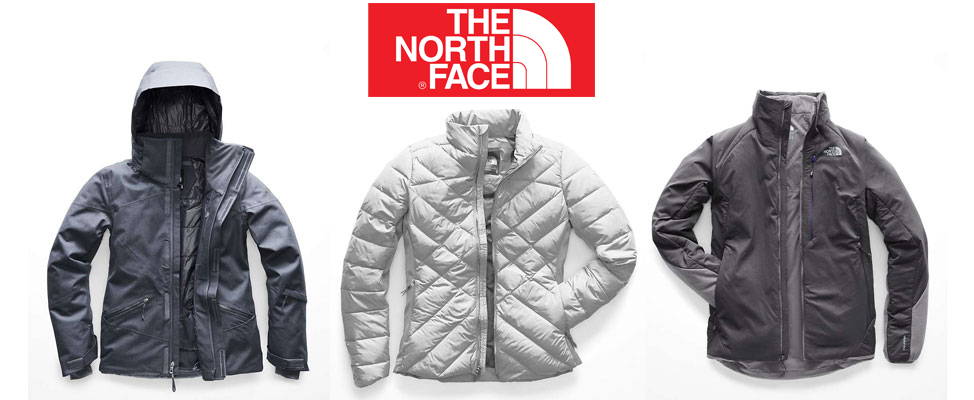 1. THE NORTH FACE WOMEN'S JACKETS
Get maximum protection from the elements. Discover Waterproof and Wind-Resistant Women's Jackets from The North Face® to support all your cold, wet-weather adventures.
Designed for rugged durability and superior comfort, our women's jackets complement every journey. For Skiing And Snowboarding adventures, choose a jacket for women with rider-specific constructions that offer protection in the harshest conditions. In rainy weather, pick a jacket with DryVent™ technology and a multi-layer design for waterproof protection, even in constant rainfall. For cold nights at the campsite, wear a Fleece-Lined vest that keeps you warm and cozy. No matter the activity or temperature, The North Face has the best inventory of women's lightweight jackets, heavy fleece coats and Insulated Outerwear to keep you protected throughout each outdoor endeavor.
---
Super thick and super warm, Alpaca socks keep feet cozy and comfortable all day long. These winter socks are designed specifically as boot socks with a little more room, like muck boots, winter boots and work boots. Ideal as fishing socks and hunting socks.
---
While most things are better outdoors, it's especially true of wine. But that simple pleasure demanded some serious engineering to ensure no pool deck, happy hour, or boat is hampered by broken glass. Our 10 oz. Wine Tumbler is the YETI® answer to the wine glass and available in stainless steel and DuraCoat™ color. Now, enjoying your wine in the wild is simultaneously hard core and laid back.
---
4. HEAT FACTORY HAND WARMERS
The Mini Size Hand Warmer is a Heat Factory innovation that revolutionized the outdoor industry over 20 years ago. The light weight pouch contains a mixture of ingredients that, when exposed to air, create an oxidation process generating heat. The Mini Hand Warmer is our most popular size warmer and lasts 10+ hours. Mini Size Warmers can be used in gloves, pockets, headwear and any other place where soothing heat is desired.
---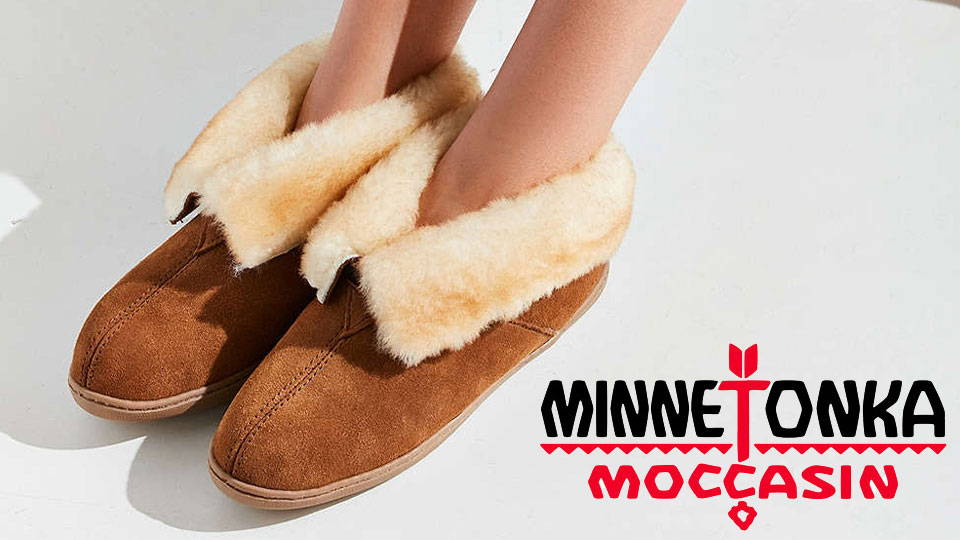 Comfort & Durability, Minnetonka use quality materials for a luxurious look and feel. Suede leather, moosehide, and deerskin are silky soft to step into while still providing durable support. Horween leather provides custom driving mocs with high-end, luxury full grain aniline, and first-rate sheepskin lining is cozy and soft while still allowing feet to breath.
---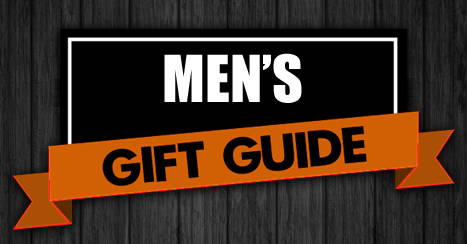 1. CAMP CHEF PELLET GRILLS AND SMOKERS
With a Camp Chef pellet grill, you can bring professional wood-fired flavors right to your back patio. Grill, smoke, bake, roast, braise, and barbecue on one grill, all with the touch of a dial. Enjoy the temperature control and smoke output of our Smart Smoke Technology, as well as the easy Ash Cleanout system you won't find anywhere else.
Become the grill master you were born to be.
---

2. SITKA GEAR FANATIC HOODY
With the Fanatic Hoody, Sitka took the chassis of a traditional hooded sweatshirt and turned it into a stealth hunting apparatus. Body mapped grid and micro grid fleeces precisely regulate your temperature while keeping scent to a minimum with Polygiene® Odor Control Technology. The hood is cut for maximal peripheral vision, and from within it you can deploy the built-in facemask for enhanced concealment. The half-zip construction allows for a built in hand muff, which, together with the flip-over hand mitts in the sleeves, works to keep your fingers warm and dexterous.
---

3. PREDATOR TACTICS THE LANTERN
The Lantern Headlamp is a powerful multi-purpose headlamp for any outdoorsman, especially when hunting for coons and other predators. The Lantern features dual LED's built directly into the light with the ability to change the color of your headlamp with a quick press of a switch. Just like many of our other coon hunting lights, this headlamp has all the needed bells and whistles, like the adjustable focus, intensity control, rechargeable and durable construction that make it a very handy tool no matter what the job or task at hand may be.

Features:
300+ Yards* of Beam Throw

Adjustable Focus

Intensity control dial

Dual LED Headlight with options of either (RED & WHITE) or (GREEN & WHITE)
---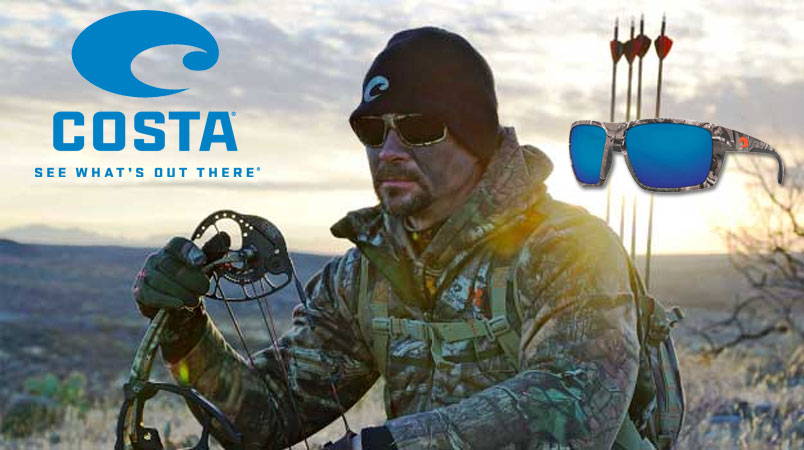 4. COSTA DEL MAR 580 SUNGLASSES
Beyond Polarized
Costa 580 lenses were designed by in-house light spectrum experts to enhance colors because standard sunglass lenses fell short. The lens' multipatented technology manages light by:
Absorbing Harmful High-Energy Blue Light (HEV)
Cuts haze and blur for greater clarity

In addition to 100% protection from UV light, 580 technology also absorbs HEV light known to cause macular degeneration, pterygium, cataracts and other eye diseases
Enhancing Reds, Greens, and Blues
Blocking harsh yellow light at 580 nm on the visible light spectrum boosts the amounts of red, greens and blues naturally, enhancing colors and contrast
Filtering Out Harsh Yellow
For enhanced color, sharper contrast and higher definition
---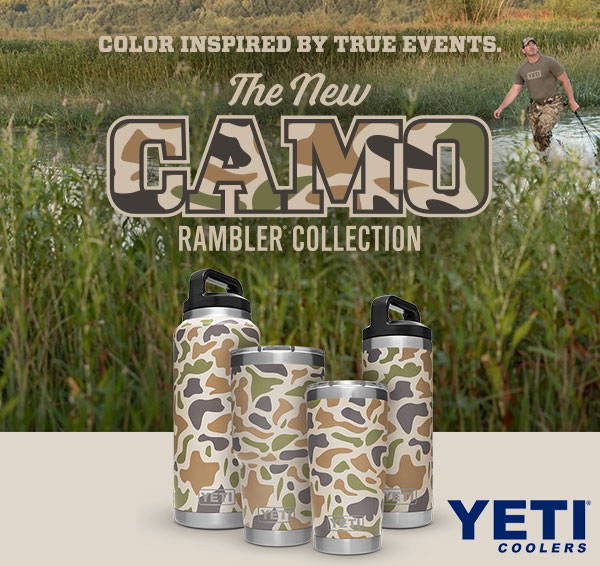 The Camo family of Ramblers honors the hunting legacies we've passed down for generations. That's why we created this YETI-original camo pattern. It's less about high-tech concealment, more about trading stories after a long sit in the blind. Camo Rambler is available in a 20 and 30 oz. Tumbler and an 18 and 36 oz. Bottle. This one-of-a-kind camo pattern should keep you in the predator mindset. It's meant to ignite your passion for whatever your quarry, from whitetails to waterfowl.
What makes pre-dawn at deer camp more tolerable? A steaming cup in your Camo Tumbler. That coffee stays hot until there's no shooting light left in the day. Camo Bottles hydrates you ahead of the long haul back to camp with your quartered elk. These Tumblers and Bottles can even come in handy to keep game organs separate and chilled until supper. No matter when or where you find it useful, Camo Ramblers keep the tradition going. Shop Camo Ramblers now before they flush and are gone for good.
---